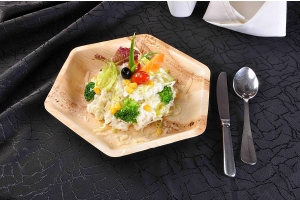 The disposable palm and areca leaf plates act as a great source of organic manure. The plates can also be used as a good fertilizer which also enhances plant growth. Areca rectangle shaped Eco palm leaf plates also serve as a very good source of animal fodder. As per the customer requirements we design and develop the Palm and Areca leaf plates in large scale. According to the ideas of the customer our team implements the design ideas that assure total user satisfaction. These elegant, customized disposable Areca plates made from Areca leaves are an Eco-friendly alternative to plastic disposable plates. These biodegradable Areca leaf plates are a natural and can be a re-usable resource.Disposable Leaf Ware are the Best Manufacturers of Natural Dinner Ware by Areca and Palm Leaves.
Natural Dinner Ware – Disposable Palm and Areca Leaf Ware
People always enjoy picnics and parties; of course, there will be lot of foods, drinks, savories and other items. In order to enjoy clean and atmosphere we select some spot which is clean to make ourselves comfortable. We have to leave that place as clean as we have occupied so that others can make use of the same place after we leave that place. What best we can do to keep the place clean, we can use Areca Palm Leaf Plates for all our needs in eating. It is healthier way of eating. One can use areca palm leaf Plates when they go out for picnics and when they conduct parties at homes. It is extremely bio degradable substance and it easily gets mixed with soil without affecting the properties of soil.Disposable Leaf Ware produces Natural Dinner Ware items by using Areca and Palm Leaves.
Eco- palm and areca leaf has an unconventional but yet uncompromising style of exhibiting and honing their creative skills towards meeting the best of industry as well as business standards, and thereby delivering unparalleled customer satisfaction. That is the reason we manufacture Eco friendly plates.
Areca Palm plates are the most economic & eco-friendly artifact one can use anywhere anytime keeping the environment factor in mind. Application & Usage Areca leaf plates and Areca Cups are highly economical as they serve as the best alternative for catering to all social occasions like Wedding, Marriage Functions, Naming Ceremonies, And other different occasions.